At Madison elementary school in Phoenix, Arizona in the late 1950s, problem students like me were often sent to the art teacher's room. Unfortunately for me, my objection to sitting in a little desk, arranged in little rows, then moving to another room full of desks in rows when a loud bell rang, made me a problem student. Fortunately for me, the art teacher was my mother. After the pin-drop quiet, pin-neat order of our home-rooms, the happy chaos of Mrs. Rheingold's room was like travelling to an altogether different dimension. Mrs. Rheingold's philosophy of teaching art was that all human beings are creative innovators, have a need to express ourselves creatively, but many — most — people are shut down at an early age. Someone looks at the page you are happily scribbling and tells you that your horse doesn't look like a horse, and you decide to leave art to specialists. Mrs. Rheingold didn't teach technique. She gave permission to play. So I never bothered much with drawing horses that look like horses. Painting, first with oil and then with acrylic, has always been a conversation with myself and the universe, a kind of private language. A communion with the life force, the numinous, the subconscious, symbolic, mind-manifesting. I never aspired to make it in the art world. I've never had a show. But in 1995, when Apple made a big plastic digital camera that I could plug into my computer and use to upload images to the Web, I made a gallery on my website. (The old gallery is here.) When Carl Jung's Red Book was published, I was pleasantly surprised. Either  Jung heavily influenced my painting, or he and I were exploring/pointing at the same thing.
This is my mom, Hannah Geraldine Rheingold, toward the end of her life, at 99.  When she died, I wrote about her on my blog of the time. The next day, I started getting email. She had retired from teaching thirty five years ago. Her former students, dozens of them, had not known how to find her until I wrote that. So many of them needed to testify about how they didn't realize until later how she had changed their lives by simply allowing them to make art. Thank you, Mrs. Rheingold, for giving us permission.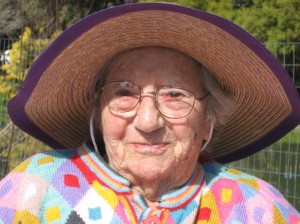 February 7, 2017, Institute for the Future Presented "The Past Futures of Howard Rheingold," an exhibition of my artwork and a talk, introduced by Mamie Rheingold, followed by a conversation with Fred Turner: Video of talk, Catalog of Show.